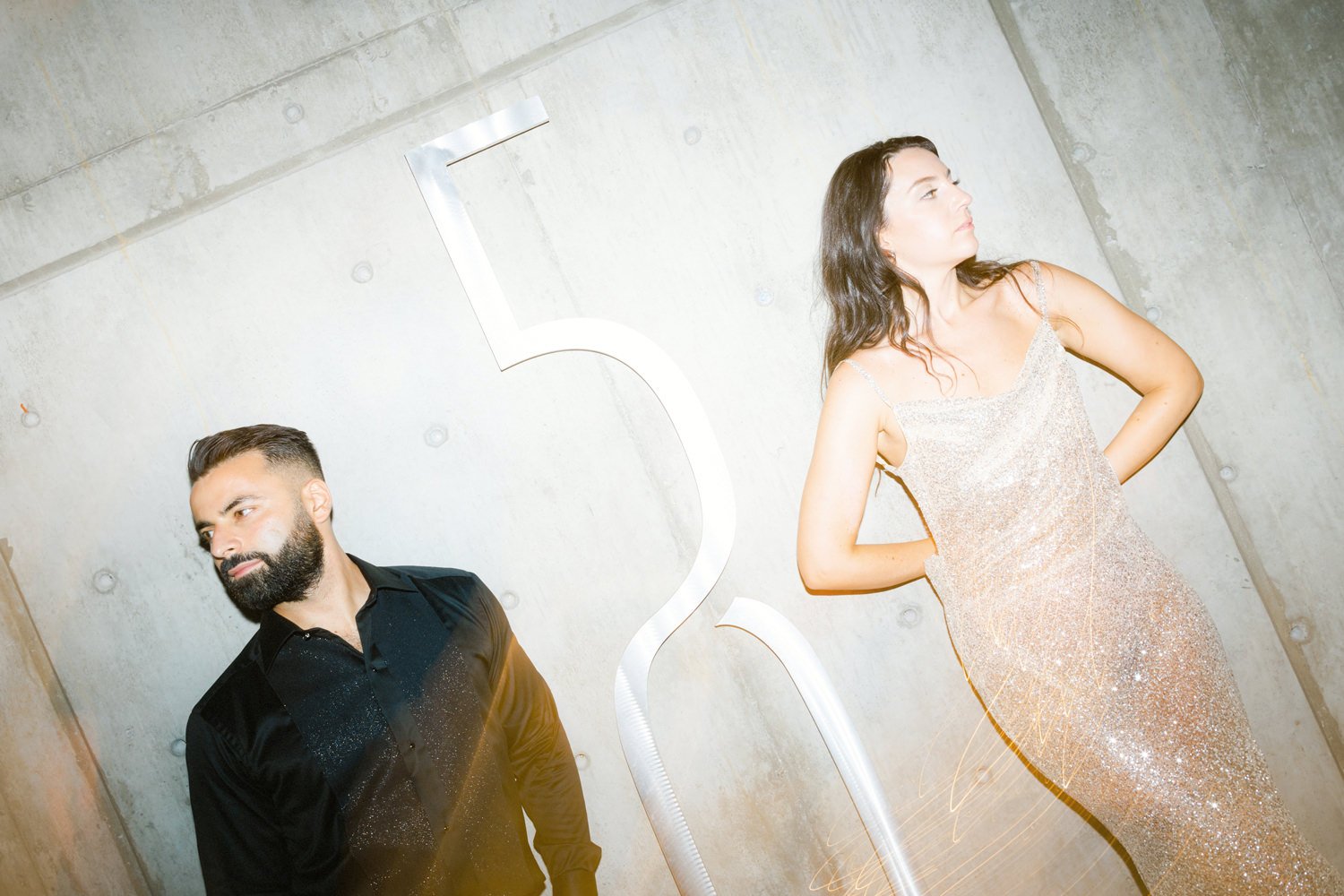 Natasa & Ghaith's wedding at 50th Parallel Estate Winery in Lake Country was dripping in style from the architecture to the wedding design to the guest attire. It was even rounded out with a Vogue style portrait shoot.
Planned by Francesca of Smitten Events, this wedding had us braving the hot summer sun radiating off the concrete at 50th Parallel Estate Winery—although you could argue that it was actually this beauty of a duo here who were turning up the heat. Natasa & Ghaith were actually married prior to planning their Summerland celebration and broke the surprising news during their ceremony (which actually turned out to be a vow renewal complete with an amazing water view). With the big reveal done and dusted, we made memories with their family and friends during cocktail hour, walked through the incredible reception room that Smitten Events had orchestrated for the couple, and listened to stories about connection and love. We got silly and serious during a Vogue style shoot in the adjacent tank room and broke out in traditional Serbian and Iraqi dances all night long. Summerland, BC never saw it coming. Cheers to you, Natasa & Ghaith, for such an incredible day.
Why did you choose 50th Parallel Estate Winery as your wedding venue?
Natasa & Ghaith: We choose this location specifically for the modern vibe of the building, we love the concrete structures, clean lines and water views. We're interested in having the majority of photos reflect this vibe.
What's the style/mood you landed on during your wedding planning?
Natasa & Ghaith: The style of the decor is modern romantic, everything is in cream and white tones with touches of black structured pieces. Simplicity and clean lines were key in picking out the decor theme.
What are the most important aspects of your wedding day?
Natasa & Ghaith: There will be lots of traditional dancing from both the Serbian and Iraqi influences from our families. Music is really important to us so we are spending a significant time on the playlists and setting the tone of the day through different types of music depending on the time of the day. We want to remember our wedding as just a fun time with our friends and family.
Venue: 50th Parallel Estate Winery
Location: Lake Country, BC
Planning: Smitten Events
Design & Decor: Perspective Event Design and Bespoke Decor
Floral: Crocus Floral Design
Hair & Makeup: Kathryn Ramsay Esthetics
Wedding Dress: Savannah Miller
Wedding Veil: Sarah Seven
Music: DJ Spinal Shift

If you're interested in booking Tomasz for your Lake Country wedding: SAY HELLO