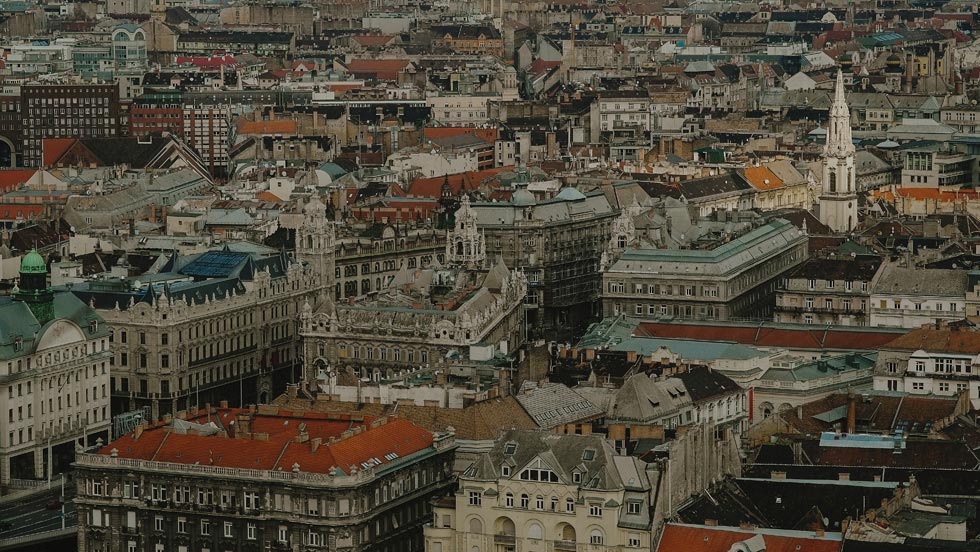 We had the luxury of spending several days in Budapest as our flight to Athens would not happen until 5 days later. In typical fashion, we walked and walked everywhere, with few set destinations in mind. Doing so usually lends itself well to many interesting surprises, one of them being the discovery of a Vivian Maier exhibition at the Hungarian House of Photography, during our first evening in the city. We were pretty stoked about this as Maier happens to be a photographer whose work we both appreciate and this fact was quickly apparent in the photographs we were producing soon after: square crops, shooting from the hip, interesting "selfies" before they were called "selfies." We did our best to channel her, respectfully.
We visited the birds at Buda Castle and looked out towards the "Pest" part of the city from Fisherman's Bastion; we climbed Gellért Hill to view the city's opposite and complementary face (Buda) the next day; we crossed the Danube River via the Széchenyi Chain Bridge connecting these two faces of Budapest and strolled past the golden Hungarian Parliament Building; we photographed lonely and discarded shopping carts at the Central Market Hall (Nagy Vasarcsarnok) and watched the pigeons scramble for choice pieces of bread; we had heaping bowls of goulash and again (and for now) felt snow on our heads as we became a part of, and separated from, our temporary European home.
Unlike the other places we had been to while in Europe, we felt like we were truly departing this time, and indeed this much was true, as we would be boarding a plane for more southern climes, where sun, not snow, where heat, not the damp cold, would feed our motivation to keep moving. We were headed to Athens: with a mixture of trepidation and delight, for a new adventure, and for a reunion.
Written by Amy
All photographs by Tomasz Wagner on the Fuji XE1, Contax G2, and Fuji GW690II