Last updated: August 3, 2020


How to Get Married in Vancouver:
Elopements, Micro Weddings, and COVID-19
—

Table of Contents
↳ Weddings during COVID-19
↳ Why elope or plan a micro wedding?
↳ Best elopement and micro wedding locations in Vancouver
↳ What do you need to get married in Vancouver?
↳ Vendors to include in your elopement or micro wedding
↳ The party comes later
↳ Booking your photography and videography
Weddings during COVID-19


We've walked into a new reality where, now more than ever, we need to be kind and considerate towards each other. We're here to help couples navigate this storm called COVID-19 with this guide on how to get married in Vancouver.
From our understanding of the latest version of BC's Restart Plan as it pertains to weddings, no gatherings over 50 people can happen until further notice. And for gatherings under 50 people a few things must be considered:
a) Think small: the 50 people needs to include vendors as well.

b) Physical social distancing (at least 2 metres or 6 feet) must be followed which means: for ceremonies, a wedding commissioner can ask that only 5 people be present (source; ie. them, the couple, 1 photographer, 1 videographer). This could also mean: needing to have your ceremony outdoors; hair and makeup artists wearing full PPE; planners, photographers, and other vendors wearing masks; setting up sanitation stations; no buffets or serving guests pre-packaged meals instead; no dancing for guests
We know this sounds like a lot in order to keep each other safe but we 100% agree with these measures for getting married in Vancouver. We can also see a lot of creativity coming out of a situation like this. If you're still keen to get married in Vancouver during COVID-19 (and after May 30th in B.C.) here are some ideas to consider:
Have a picnic style reception in an outdoor space. Bear in mind venues and other vendors may have strict guidelines for how this needs to be done. Set out blankets for each household to sit on while they watch your ceremony from a distance. Include pre-packaged meals and sweets, bottled drinks, and cutlery. Play some light dinner music as the sun sets. An outdoor setting is best but it looks like some wedding venues with both indoor and outdoor options can be rented for micro weddings in 2020
You can also scrap those ideas and elope or have a micro wedding instead. Plan the big party for later when it's safe to do so. More on this below!
Why elope or plan a micro wedding?


With COVID-19 affecting weddings for the foreseeable future, couples still wanting to get married are deciding to elope or have a micro wedding with special attention to physical social distancing.
But beyond that, a simpler and more intimate experience is one of our favourite parts of elopements as a photography and videography team. The number of locations opens up to include outdoor spaces like beautiful park corners (without the fuss of obtaining a park permit), the rooftop of an apartment building, or your backyard. The focus is just on you and your best friend and the words you want to share with each other, without a room full of guests staring at you. This makes for some truly heartfelt and beautiful moments—which we've been lucky to document.
Personally, I (Tomasz) am all for elopements and micro weddings and when we decide to get married, this is how Amy and I want to do it: a simple and intimate ceremony in a beautiful location with just us, our officiant, photographer, and videographer. The reception and dinner party will come later for our closest family and friends: a cozy venue, minimalist ikebana style florals, delicious food and drink, and our favourite music to dance the night away.
Our photography and videography services are currently available for elopements and micro weddings taking place in Vancouver between May 31, 2020 and Nov 1, 2020.
Best elopement and micro wedding locations in Vancouver


• Vancouver City Hall recently opened up an option to host your micro wedding at the Helena Gutteridge Plaza for just $85: weddings at City Hall
• These venues are offering special micro wedding packages:
• The Polygon Gallery
• The Wallace Venue
• Stanley Park Pavilion
• American Creek Lodge
• Parks — this one will be a bit trickier given that several popular park and beach parking lots are still closed due to COVID-19 (source). However, here are a few options that would not only be great for your ceremony but for photos and video afterwards. If we aim to have your ceremony earlier in the day, we can avoid some foot traffic and have the best light for your photography and videography.
• Pacific Spirit Park at UBC
• Queen Elizabeth Park
• Stanley Park
• Portal Park (map)
• Underneath the Burrard Street Bridge (a good rain option)
• Robson Square and the Law Courts (we have a few favourite areas)
• Your backyard
• Rooftop of an apartment building
• In front of a mural in Mount Pleasant
• Small venues rented via This Open Space such as The Garden Strathcona and Gastown Studio
What do you need to get married in Vancouver?


• A marriage licence which can be obtained from various insurance agents, notaries public, London Drugs stores, and Service BC locations
• A marriage commissioner or officiant who will walk you through the legal aspects of your wedding ceremony, offer options for writing up something special or personalizing your vows, and help you complete the Marriage Registration Form. We highly recommend the following Vancouver based marriage commissioners and officiants:
You can also use this search to find a marriage commissioner that services the area where you're planning your wedding ceremony: Search for Marriage Commissioners
• At least two witnesses: if you don't have anyone lined up, we're happy to be your witnesses as your photo and video team (ie. one photographer and one videographer)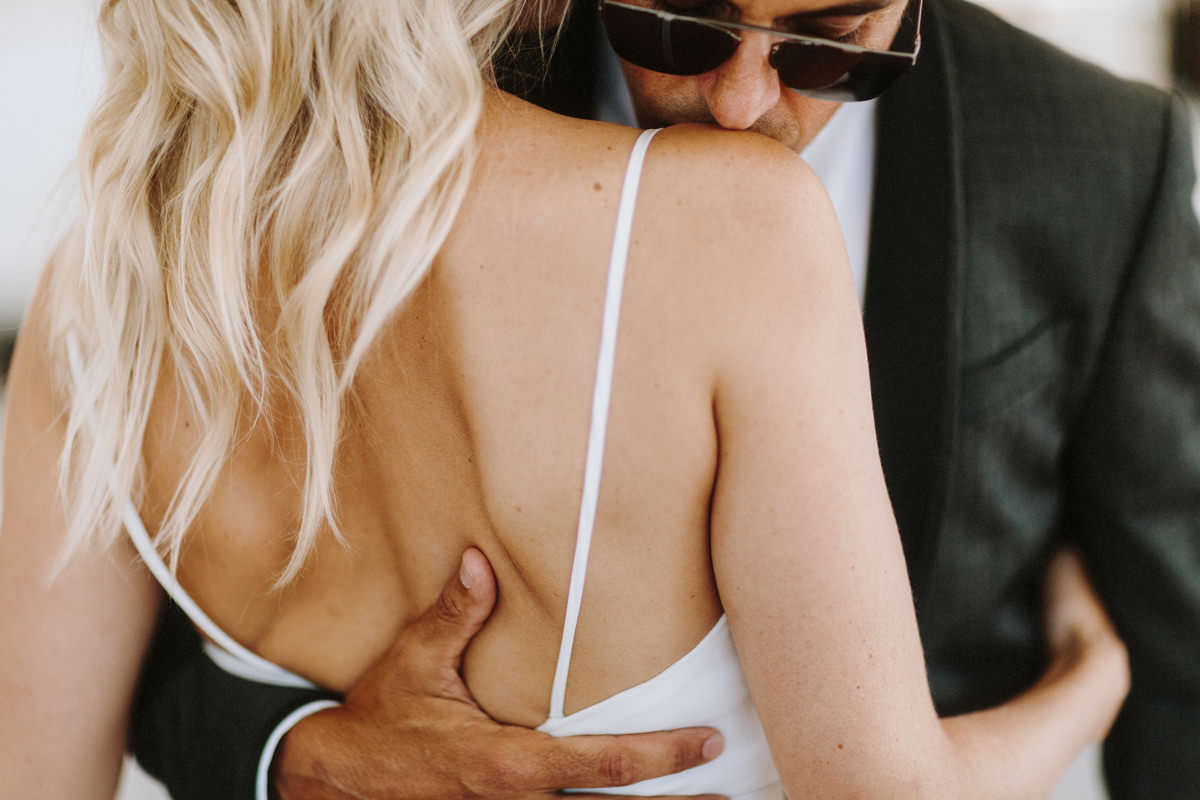 Vendors to include in your elopement or micro wedding


• Photographer — many photographers will help you with your timeline, location scouting, and advice on the best light for your wedding photography. For our part, we're envisioning many of our couples will want a lovely ceremony, a little champagne toast, a portrait session, and then a picnic to wrap up their wedding day.
• Videographer — whether it's Zoom or any of the other apps available to us, video seems to have become a much more precious way of keeping connected. Have your wedding day filmed and recorded so that you can share these lovely moments with your family and friends who couldn't be with you.
* Note: we're offering special photo and video rates for elopements and micro weddings taking place in Vancouver between May 31, 2020 and Nov 1, 2020. These rates are subject to change without notice. Check our availability!
• Planner — some planners are offering special packages for elopements and micro weddings. Need help coordinating food delivery for you and your guests? Finding the perfect rentals and designing a beautifully stylized table setting for you and your best friend? These legends have you covered:
• Florist — a bouquet, a boutonniere, or something completely unique and extraordinary. These folks are gems:
• Food — a little cake, a bottle of champagne, and anything you'd want on a particularly special date night because, hey, it's your wedding day and you can treat yourself. Support your favourite restaurant and make a picnic of it. Here are a few ideas:
Sweet
Beta5 pre-packaged specials (pick up only)

Lavish Liquid cocktail kit delivery (delivery only)

The Cake & The Giraffe (delivery or pick up)
Savoury / some of these restaurants also offer alcohol
Boy With A Knife chef to table meals (delivery or pick up)

Mak N Ming bento boxes (pick up only)

Torafuku meal packages (delivery or pick up)

Nightingale take-out menu (delivery or pick up)

Miku aburi-to-go (delivery or pick up)

L'Abattoir multi-course prix-fixe dinner menu (delivery or pick up)

Chambar (delivery or pick up)

Como Taperia (pick up only)
The party comes later


Don't fret. For those of you mourning your original wedding plans, we hear you and we're sorry the celebration you envisioned has to be postponed or reimagined. And for those who were always going to elope or have a micro wedding, it doesn't mean you can't involve more of your loved ones later—when it's safe to do so.
Larger gatherings and weddings likely won't be permitted to happen until 2021 and that's okay. Strange days are here but they will pass. Once we're able to get together, we'll have that much more to celebrate and it'll be the party of all parties.
Until then, be kind to each other, call up your family and friends, and stay safe.
If you'd like to book our photo and video services for your elopement or micro wedding, send us a note using the form below.

Looking forward to hearing from you!
—
↑ Go to top





OTHER GUIDES YOU MIGHT FIND USEFUL
—



Top 30 Vancouver Wedding Venues