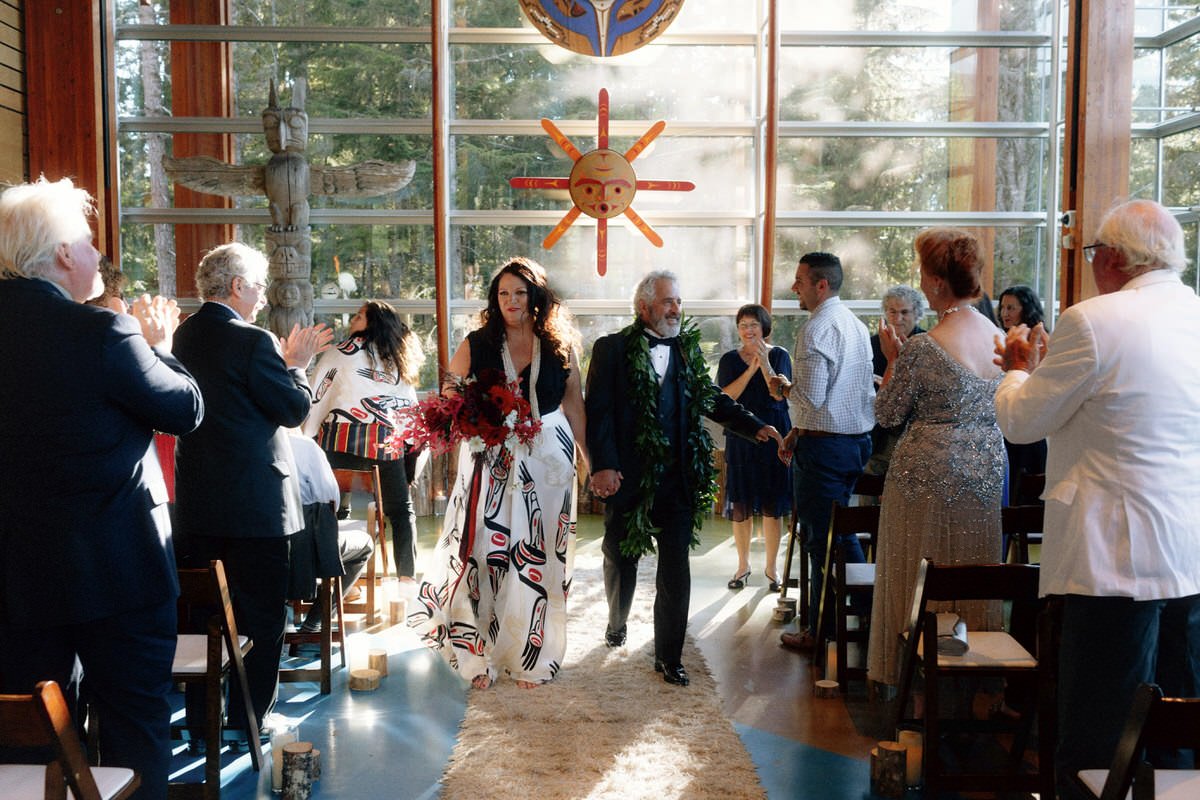 One of my favourite parts of being a wedding photographer is finding out who connects with my work. Where they live their lives and why; the humans surrounding them and the micro relationships they're a part of; the history they've shared and the meaningful details that speak to who they are. ⠀
The Squamish Lil'wat Cultural Centre / SLCC was made for the joining of these two beautiful and blended families
⠀
We were welcomed to the traditional territories of the Squamish and Lil'wat Nations. Shea walked barefoot alone down the aisle in The Great Hall of the SLCC as the light streamed in through the floor to ceiling windows. This moment was made for her. This moment was made for him. In all of their time spent on this spinning globe, they had found one another. The bones of this sacred space felt like they were glowing. Shea wore a custom made Indigenous gown (a nod to her heritage) and an elaborate lei made of rare Ni'ihau shells (a nod to Hawaii, where she and Michael live). A traditional Maile lei cascaded from Michael's shoulders. These moments felt powerful. There were so many tears. An owl named Hagrid was moved by the ceremony, too. And as the ceremony ended, we were lifted and entranced by the sounds of a traditional hand drum love song by one of the SLCC's Cultural Ambassadors. The muffled whispers and sighing tears, the words spoken by Shea and Michael, the space that held all of these memories. It was all unbelievably perfect.
I've looked at probably hundreds of potential photographers and yours are the only that made me emotional. I don't like posed photographs. I am self conscious and feel like you make everyone beautiful… We want the photos to highlight the social and cultural diversity of our friends and family, and capture candidly what makes us special and fun and funny.

—Shea

Shea and Michael, yours was a celebration and a world I'm grateful to have been a part of. It was moving, joyful, and so beautiful in all its considered details and honouring of the places you've come from. Thank you for the opportunity to share it with everyone here.
Venue: Squamish Lil'wat Cultural Centre / SLCC
Location: Whistler, BC
Planner: Sea to Sky Celebrations
Officiant: Tracy Kerr
Floral: Senka Florist
If you're interested in booking Tomasz for your Squamish Lil'wat Cultural Centre SLCC wedding: SAY HELLO