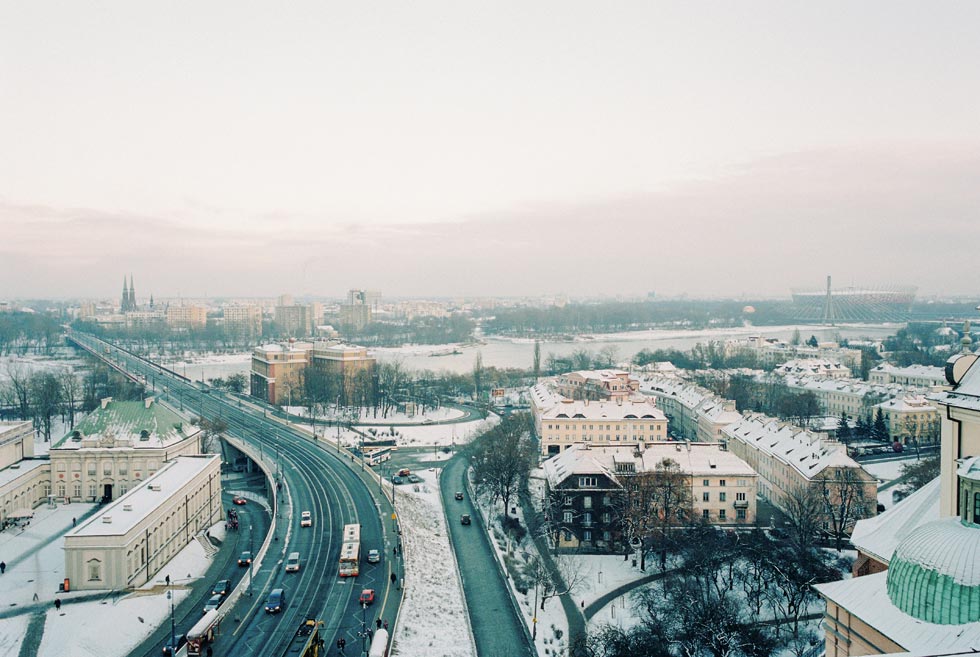 Poland, oh, Poland. The Polish-Canadians who speak of you aren't always the kindest when they think of your unsavoury grey buildings, your fiercely cold winters, and the hard life you offered under Communism's unrelenting fist. You are no longer a destination to them and yet they speak of you with such passion and nostalgia, even as they tear into you. For many of them, you were their home and the place where many of their relatives now rest. We witnessed a mere sliver of you and your history while we visited Warsaw, Kraków, Wrocław, and Nysa for 3 weeks and we found beauty in more than just your homemade fruit vodkas.
Warsaw
Our hosts were the wonderful Edyta, Pavel, and Mruchek the cat and they made it incredibly easy for us to unwind and stay warm in their apartment in Warsaw. When we weren't sitting back and enjoying their wholesome Polish food offerings, we were venturing out into the biting cold of the city for as long as the fleeting daylight and our frozen fingers would allow. Hopping into various cafes and shops to warm ourselves up allowed us to continue on, but before long, day became even colder night and we were happy to make our way back to Mruchek to let him know about the grand park or church or palace we had seen that day.
Apparently going out to a restaurant isn't really a big "do" in Poland and there was something about this which resonated with us. We enjoy restaurant and food culture as much as anyone in Vancouver (we think) but there was some measure of relief and loveliness in knowing that the home-cooked is the norm.
Kraków
After a few days in Warsaw, we took a bus over to Kraków to visit some acquaintances who were nothing short of hospitable and inviting (you'll notice a common theme here). They knew a bit about us via T's mum and it didn't matter that we were actually meeting them for the first time: there is no warmer welcome than homemade pickles and fruit vodkas, and the tastiest Zupa Ogórkowa (Polish dill pickle soup). We went trekking in Ocjów National Park and exploring in the Wieliczka Salt Mine and under the watchful eye of our hosts' laser-screeching cockatiel, we discovered more fruit vodkas in every cabinet in their apartment. We rested well that night.
Wrocław
As was the case for every city we'd been to thus far, we spent far too little time in Kraków and after a few days, made our way to our next destination: Wrocław. Unlike Warsaw and Kraków, Wrocław has this distinctive counter-culture vibe to it—perhaps this is due to its status as a university town, or its 180 gnome statuettes, or its having been a part of the Kingdom of Poland, Bohemia, the Austrian Empire, Prussia, and Germany at various times in its multihued history. Having been spoiled by our acquaintances and family friends, we returned to the hostel life with some reluctance; Corner Hostel was by far one of my best hosteling experiences, however, and my only "concern" was the constant smell of fried chicken in the washrooms—ugh or yum!, depending on who you are, I suppose.
Nysa
Nysa allowed us to return to a slower pace of travel as we visited with T's relatives who so kindly lended us a car. Days were spent learning about the individual stories of family members, deciphering multilingual conversations, and driving through the countryside to rest at a palace for the night.
We stayed at the wonderful palace-project known as Piotrowice Nyskie with Jim and Anna, their rambunctious children (can children be anything but?), their cats, dog, geese, and sheep. The drive to get here from Nysa was eerie and not unlike a horror movie, however the end of the road was anything but slasher-worthy: a picturesque work-in-progress with the utmost charm. If you ever find yourself in this area of the world, we have no doubt you'll want to spend it here.
It's quite a beautiful thing when Polish, Italian, Russian, French, Ukrainian, German, and English can be spoken at a dinner table during Christmas and in this unlikely mish-mash of languages, a feeling of "home" and belonging can be felt by foreigners amongst strangers. But what I'll remember best is when we visited that colourful, almost festive cemetery and the grave of a grandmother, mother, sister, and daughter whose only grasp of the English language were the words: "I love you."
Imagine being "limited" to that one expression. I wish I could have known her.
Written by Amy
All photographs by Tomasz Wagner on the Fuji XE1, Contax G2, and Fuji GW690II