Top 30 Vancouver Wedding Venues
—

As curated by Vancouver based wedding photographer Tomasz Wagner
There are heaps of wedding venues located in the Vancouver area to suit all kinds of styles and moods. In my ten years as a wedding photographer, I've been lucky to photograph ceremonies and receptions at most of these locations and love when couples find something particularly special that checks all the right boxes in their wedding planning. The following is a curated list of indoor and outdoor locations, both large and small venues, and what I personally consider to be the Top 30 Vancouver Wedding Venues listed in order of type of venue.
TABLE OF CONTENTS
Garden style / Outdoor Wedding Venues



Tucked away at the University of British Columbia is Cecil Green Park House, a beautiful wedding venue that offers a number of different options for your ceremony and reception: an exclusive private garden, covered terrace, and its classic house. It can accommodate a full seated dinner on the covered terrace for up to 110 guests or in the house for up to 150 guests. Food is offered via Westcadia Catering.
Check out: Marisa & Lebron's wedding at Cecil Green Park House
Located at Deer Lake in Burnaby, the Hart House offers a variety of on-site venues to suit various tastes but I have to admit it's the the Lawn and Tent combo that really shine at this romantic, classic venue. The Tent in particular is a perfect Plan B location in case of rainy weather and both your ceremony and reception can be hosted there, if needed.
Check out: Hayley & Rasmus' wedding at Hart House Restaurant
Located in the ever beautiful and popular Stanley Park, the Stanley Park Pavilion is a great venue that is actually 4 different spaces that can host both indoor and outdoors weddings: the Lord Stanley Ballroom, the Tea Room, Stanley's Bar & Grill, and the Formal Gardens. Wanting both an outdoor garden setting for your ceremony and a neutral blank slate for your dinner reception? The Stanley Park Pavilion has you covered.
Check out: Sydnie & Farzad's wedding at Stanley Park Pavilion
At the heart of Vancouver's Chinatown behind white walls sits Dr. Sun Yat-Sen Classical Garden, the first classical Chinese Garden in Canada and established outside of China. This peaceful venue features covered walkways, pavilions, and meticulously cared for plants and ponds. Rent it for an intimate wedding ceremony and then head on over to your favourite restaurant in Chinatown for your dinner reception.
Although the UBC Botanical Garden offers a number of different areas that can be used for weddings, couples are usually and immediately drawn to its beautiful covered arbour: a natural and romantic backdrop for ceremonies and long table dinners. This list of the most unique Vancouver wedding venues wouldn't be complete without including this stunning location. As a photographer, I also love the many portrait locations all over the UBC campus.
Check out: Vicky & Joe's wedding at the UBC Botanical Garden
Ballroom style / Indoor Wedding Venues



For couples envisioning a grand, classic, and luxurious ballroom style wedding, the Fairmont Hotel Vancouver is all aces. There are various spaces to choose from for both your ceremony and reception at this venue but the Pacific Ballroom happens to be the most popular option for opulent, show-stopping weddings and those who want to dance their faces off on the large and permanent wooden dance floor.
Classic meets contemporary at the Rosewood Hotel Georgia with its interesting architectural elements and an overall luxurious and elegant vibe. Perfect for Gatsby style weddings where the Roaring Twenties stay alive forever and ever. Or for those classic affairs where you can simply enjoy the ambiance of a well designed room without too much decor to distract from it.
Thankfully, you don't need to be a member in order to rent the TCC for your wedding. Featuring both elegant ballrooms and garden patios, you'll be well taken care of by staff who excel at creating a thoughtful experience for everyone who steps through this venue. Terminal City Club blends tradition and modern luxury in the heart of downtown Vancouver, and is undoubtedly one of the city's hidden gems.
Boasting a number of different indoor and outdoor spaces including the classic Ballroom to the intimate Patio Garden, the Vancouver Club is perfect for couples wanting an elegant and thoughtful venue for their wedding day. Along with the exceptional cuisine served up by VC staff, you'll be helped along by in-house wedding specialist.
Check out: Rachelle & Caleb's wedding ceremony at the Vancouver Club
Modern Wedding Venues



The ARRAS is one of Vancouver's newest wedding and event venues and thankfully for the urbanite, it's very centrally located at 1464 W 7th Ave in South Granville. It boasts three different spaces: the Ballroom (a large and modern open space suited for 348 to 400+ guests), the Rooftop Terrace (located above the Ballroom and well suited for ceremonies of up to 308 guests as well as tented receptions), and the Piano Cafe (best for seated intimate receptions of up to 100 guests). Be among the first to get married in this modern and beautifully adorned location. Light sculpture by Matthew McCormick, anyone?
The Contemporary Art Gallery takes a limited number of rental bookings each year, so it isn't very well known as a wedding venue. That said, it's perfect for small weddings that want a clean and modern setting in the heart of downtown Vancouver.
Check out: Chloe & Zechy's wedding at the Contemporary Art Gallery
One of those high-ceiling, blank canvas type venues that's sure to leave an impression on you for all the possibilities to dream up your perfect wedding. The Modern Vancouver is ideal for all kinds of events including wedding ceremonies, cocktail style receptions, long table dinners, and parties of up to 100 guests. Rentals include items such as furniture, multimedia solutions such as projectors and microphones, and in-house catering, if you wish.
Modern, minimalist, and full of interesting corners every where you turn, the Polygon features multiple areas. My favourite has to be the Seaspan Pavilion with its floor to ceiling glass walls and an epic view of downtown Vancouver and Burrard Inlet, though the exhibition spaces themselves can make for some interesting photos depending on the current gallery exhibitions.
Check out: Dana & Ben's wedding at the Polygon Gallery
Waterfront Wedding Venues



Landing at Beach House Restaurant
The Landing at the Beach House Restaurant in West Vancouver has been reimagined to play up its heritage qualities and provide a West Coast dining experience focused on seafood. The Landing itself is situated on the second floor of the building and offers views across the Burrard inlet. Its 2,000 sq ft of space can accommodate a seated reception of up to 50 guests for lovers of small weddings or up to 125 guests with a full buyout. The venue also provides an in-house events manager for a streamlined planning experience.
Boasting floor to ceiling glass walls, exposed cedar beams, and a balcony overlooking the Fraser River, the UBC Boathouse can host up to 150 guests for a seated dinner. Highlights include: no noise restrictions (ie. you can party until 3am!), a day-of-venue coordinator, flexible floor plan arrangements, and a convenient location close to YVR Airport and a short walk away from the Canada Line skytrain.
The Vancouver Convention Centre offers three spaces for hosting weddings, ranging from 220 to 700 guests, and is perfect for grand celebrations where you're greeted by the harbour and views of the North Shore mountains upon stepping out onto the terrace during golden hour. Forget the banquet hall and check out this spectacular building instead with its contemporary west coast architecture, high ceilings, and impeccable views.
The Wallace is the newest wedding venue to grace North Vancouver's Shipyards area. It boasts history with a modern twist: located in the reconstructed Machine Shop with a terrace to beat all terraces. Very much a blank slate kind of establishment, The Wallace requires that you work with a professional wedding planner to bring your planning ideas to life. If you need any recommendations, I'm more than happy to help.
Art Deco style / Heritage Wedding Venues



One of East Vancouver's historic gems, the Heritage Hall on Main St is one of those rare venues boasting an art deco aesthetic. Its high ceilings, large windows, and artfully painted interior is ideal for couples who want to make it their own and was no brainer when it came to researching this list of the top Vancouver wedding venues.
Check out: Lindsay & Shawn's wedding at Heritage Hall
Owned by the University Women's Club of Vancouver, Hycroft is a beautiful Edwardian mansion available for wedding rentals. Ceremonies are typically held outdoors amongst the stately columns, while receptions are hosted indoors in the ballroom with its hardwood floors, stained glass windows, and fireplaces. There are no other venues in Vancouver quite like Hycroft for those looking to celebrate in elegance and style.
It doesn't get any more quintessentially Vancouver than at the MOV with its location within Vanier Park and its views of English Bay, Vancouver's West End, and the North Shore mountains beyond. The Museum of Vancouver can host outdoor wedding ceremonies at the Garden Patio and History Room and intimate wedding receptions in the Joyce Walley Room. If you opt for just a private outdoor ceremony on the Garden Patio (like Jude & Wes did), you can easily head over to your reception at your favourite restaurant in downtown Vancouver.
Check out: Jude & Wes' wedding at the MOV Museum of Vancouver
Located in downtown Vancouver, the Permanent is another heritage venue that has recently been renovated and restored. The building's interior is lit by a gorgeous 35 ft long and 20 ft wide stained glass skylight and the mezzanine also boasts some stained glass details. The owners have decided to keep the original vault door and many other neo-classical and art deco elements making this one of the most stunning indoor Vancouver wedding venues in the city.
Rustic style / Industrial Wedding Venues



One of the newer venues to join the Vancouver wedding venues community and what many of us have wanted in an cozy industrial style space (especially with Bon Accord / Union Wood Co. no longer hosting weddings, sadly). The Library at the Ellis is your private speakeasy come alive.
You'll find the best of both rustic meets West Coast Modern worlds at this centrally located venue in Yaletown. The Loft at Earls is a popular wedding venue for good reason. Couples who choose to get married here enjoy access to an event planner, a customizable in-house menu, and flexible floor plans depending on the nature and size of your event.
The Pipe Shop is a restored heritage building located on the waterfront in North Vancouver. It is 9,000 sq ft of rustic industrial goodness featuring original wood beams, polished concrete floors, and white walls throughout (including a gallery frame wall for added ambiance). The location doesn't get any better being in the Shipyards area and right beside the modern Polygon Gallery. A ceremony at the Polygon with your reception at The Pipe Shop? Easy.
Check out: Rachelle & Taylor's wedding at the Pipe Shop
Modern industrial at its finest. The Settlement Building features exposed Douglas fir beams, concrete, large windows, and skylights. The venue also has event planners who can help you figure out suitable setups and vendors for this beautiful space.
Check out: Alaina & Nasser's wedding at the Settlement Building
This incredible studio in East Vancouver has opened up their blank slate of a space to small wedding rentals and, needless to say, I'm excited by the opportunities. Depending on your needs, you'll likely want use of both the Production Area and Kitchen + Staging area to bring in your own caterer, host your guests, and fully enjoy the unique industrial venue of your dreams. The various installations throughout the space are *chef's kiss*
Small Wedding Venues including Restaurants



A healthy dose of stylish vibes in this cozy space in Chinatown serving up the most delicious modern Chinese food. Even if you don't plan on hosting a dinner reception here, you must come here for a meal.
For lovers of botanicals and the unconventional, the Bloedel Conservatory in QE Park can host private events such as intimate wedding ceremonies and cocktail receptions. Time slots are somewhat limited but if you're willing to get creative with your wedding planning (for example, having your ceremony in the morning and your reception elsewhere in the afternoon), enjoy this very special part of Vancouver's history.
Check out: Darcy & RJ's wedding at Bloedel Conservatory
Brix & Mortar is one of the most popular wedding venues in the city for small weddings. It features a unique glass-covered courtyard where many couples have hosted intimate ceremonies as well as an indoor dining hall and two patios. A great option if you're looking for an all-in-one, no fuss type of venue that will take are of most everything you need for your ceremony and reception.
Including this rental service takes my Vancouver Wedding Venues guide well beyond our Top 30 but I think it's 100% worth a look. From private lofts to industrial event venues, Giggster offers heaps of creative spaces for you to rent for small and micro weddings. Have a look through their website and consider locations like The Garden Strathcona or this Penthouse Loft for your intimate celebration.
Check out: Susan & Graeme's ceremony at this Penthouse Loft
A Japanese-Italian supper club that's a cut above the rest. Every meticulous detail of this restaurant transports you to another time (the 1960s) and if the ambiance doesn't leave an impression on you, the food certainly will. Romantic, sexy, and channeling those In the Mood for Love / Wong-kar Wai vibes like no other, I can't recommend Kissa Tanto highly enough.
Check out: Rachelle & Caleb's wedding at Kissa Tanto
Located in historic Gastown, L'Abbatoir's private dining space is ideal for couples having an intimate wedding. It can accommodate up to 50 seated guests or a standing reception of up to 70 guests and boasts the brick and beam aesthetic that can be seen through the main restaurant dining area. Elegant but simple, and for the wedding couple who appreciates good food and a refined aesthetic.
Check out: Susan & Graeme's wedding at L'Abbatoir
If you'd like to book my photography services for your wedding, send me a note using the form below.

Cheers!
—
↑ Go to top





OTHER GUIDES YOU MIGHT FIND USEFUL
—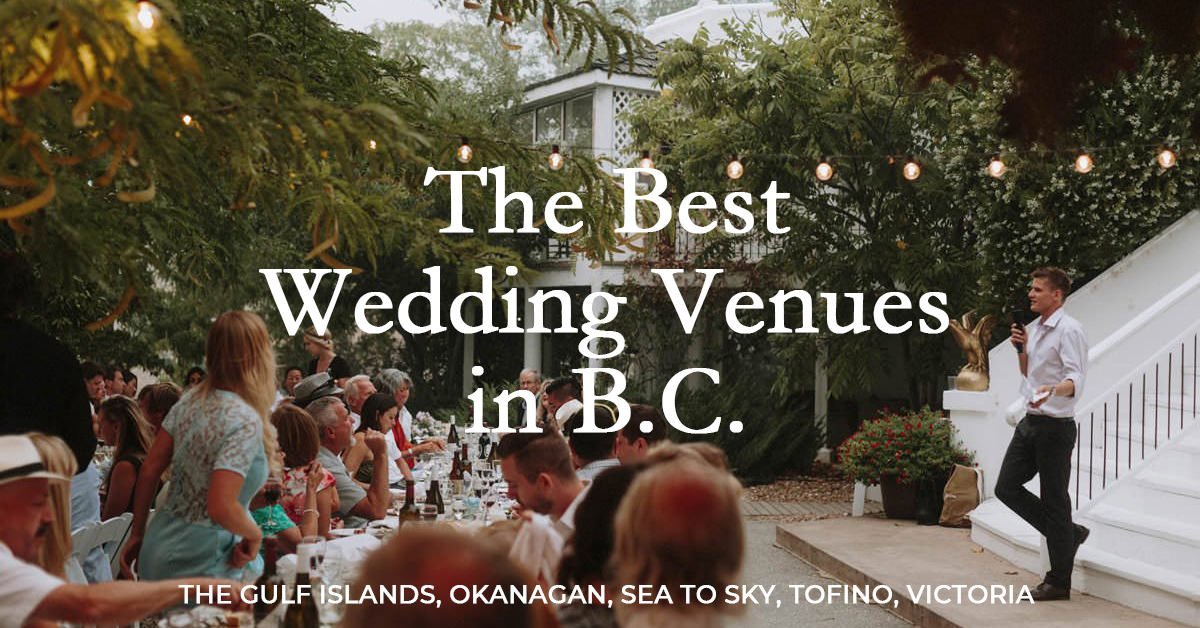 The Best Wedding Venues in B.C.