Best BC Wedding Venues: Top 25 Locations
—

As curated by BC based wedding photographer Tomasz Wagner
As a wedding photographer, I find myself constantly visiting countries and destinations throughout the world, from Scotland to Morocco to the further reaches of Japan and New Zealand. But I have to admit: nothing beats a celebration in my own backyard of British Columbia. Whether you're looking to celebrate close to Vancouver or have a local destination wedding elsewhere in the province, this curated list of the best BC wedding venues aims to provide you with a great overview and starting point in your search. Listed by region.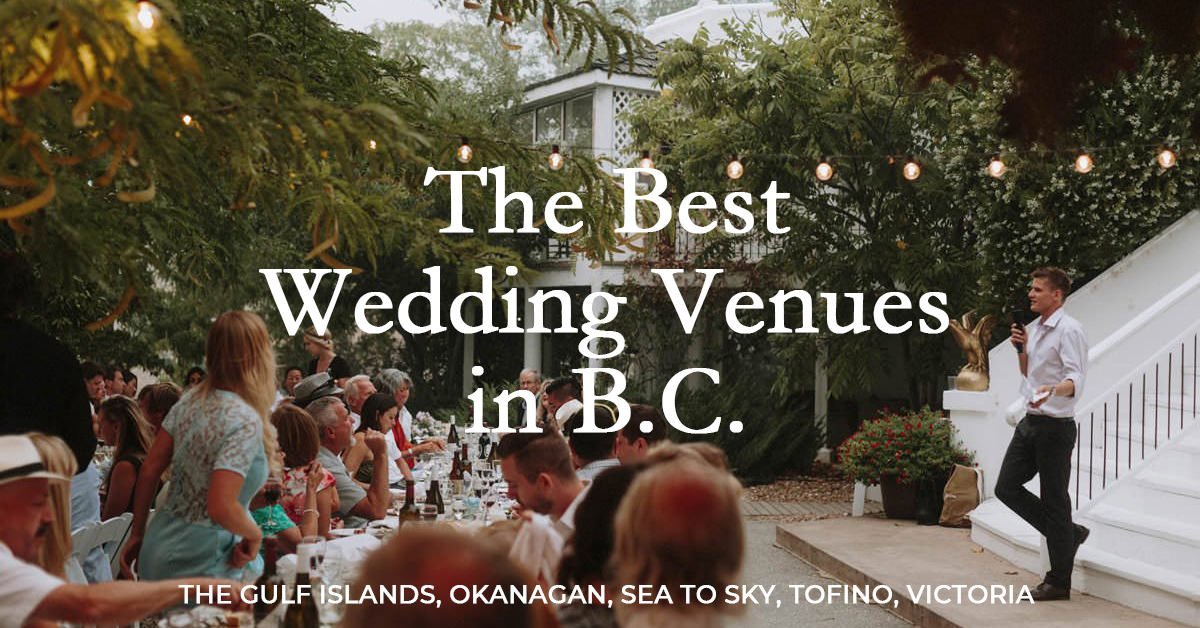 TABLE OF CONTENTS
Gulf Islands Wedding Venues



Galiano Island — Even if you're not planning a wedding there, these two gems on Galiano Island are definitely worth visiting for a full week of relaxation and enjoying the slow life. Both locations feature beautifully outfitted cabins with a modern twist: Bodega Cove being the newer of the two properties (and just up the road from Bodega Ridge) this venue is perfect for urban folk who appreciate a bit of luxury and a tastefully minimal aesthetic. Think: cedar panelling, a sleek standalone bathtub, and floor to ceiling windows. Cabin goals, indeed.
Check out: Marina & Brent's wedding at Bodega Ridge
Pender Island — Poets Cove is an oceanfront resort perfect for couples seeking a natural setting for their wedding and a little getaway from the city. Offering various spaces on the property for celebrations intimate and large as well as high-end catering, event coordination, and over 74 bedrooms on site.
Saltspring Island — The newest (and, dare I say it, most beautiful) wedding venue to open in the Gulf Islands, Sundown Point Farm is located 5 mins from Ganges Harbour on stunning waterfront farmland. Brianna and her husband, Marcus, are carrying on her grandmother's legacy by continuing to cultivate "a place people feel loved, cherished and connected." You don't want to miss this gem.
Howe Sound Wedding Venues



Bowen Island — Bowen Island Lodge is the perfect getaway for couples wanting to stay close to the city while also enjoying the full west coast experience. The rustic venue is particularly suited for small weddings that want to host an outdoor ceremony overlooking the water and a cozy reception indoors.
Gambier Island — If you're envisioning a camping weekend get away with your nearest and dearest on a local island, love the idea of an eco-friendly wedding, and want to say your vows in a natural setting, Camp Fircom on Gambier Island might just be the one. The wedding venue offers large outdoors areas whether you're planning a wedding with 50 or 200 guests, and can seat up to 200 guests in their covered dining hall.
Okanagan Wedding Venues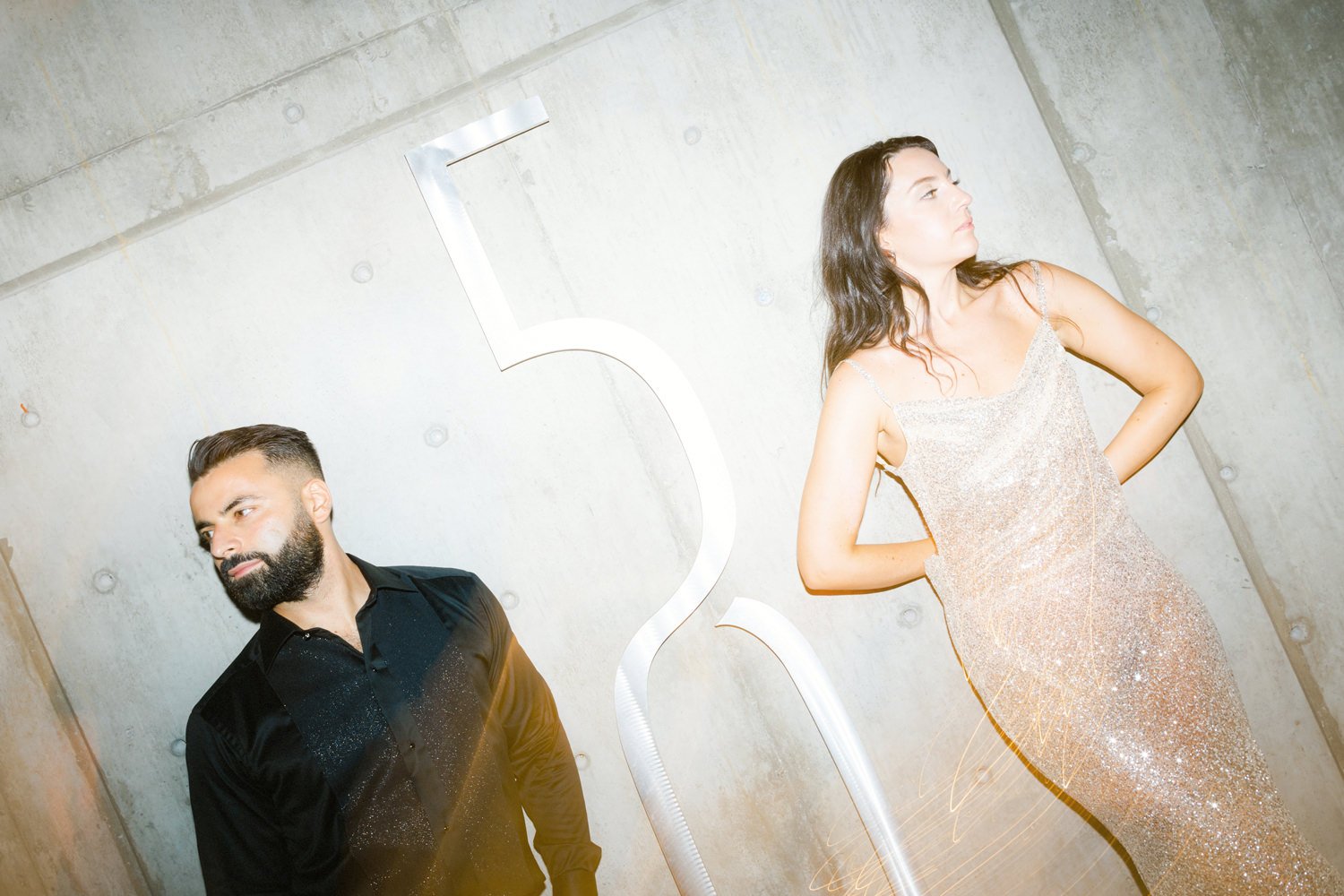 Penticton — For a truly unique combination of interesting architecture and a natural setting to delight the senses, 50th Parallel Estate is your best bet. This venue has a few different spaces to host your wedding, including indoor and outdoor options, and "was built with unique guest experiences in mind."
Check out: Natasa & Ghaith's wedding at 50th Parallel Estate
Penticton — This wouldn't be a proper list of the best BC wedding venues without mentioning God's Mountain Estate. Secluded and set on a bluff overlooking Skaha Lake in the Okanagan Valley, God's Mountain is unlike any other wedding venue in British Columbia. It's almost unbelievable that a venue like this exists in our backyard, offering a unique destination wedding experience a few hours away from Vancouver by plane. It shares many of the qualities of other Okanagan venues but there's something unique about its European / Mediterranean aesthetic, eccentric details, and attention to slow living. Perfect for couples wanting to wed, dine, and dance under the stars.
Check out: Melissa & Rob's wedding at God's Mountain Estate
Summerland — Views of vineyards, mountains, and the water for days. Oak Estate Winery not only hosts and specializes in weddings it also has a luxurious waterfront villa for you and your guests to enjoy your glorious wedding weekend.
West Kelowna — One of the many gems in the Okanagan Valley, Sanctuary Gardens features a stunning vineyard perfect for those envisioning a rustic but elegant setting for their wedding. There's even a quaint chapel influenced gazebo which can be used to host your ceremony while overlooking Okanagan Lake.
Sea to Sky Wedding Venues



Whistler — Modern elegance set amongst nature. I can't think of a better combination that speaks to my own aesthetic tastes and a location that has to be on every Best BC Wedding Venues list. This museum was designed by Patkau Architects of Vancouver and was privately built and gifted to the province of British Columbia by Michael Audain and Yoshi Karasawa. Be amongst the few to host your wedding there.
Check out: Tiffany & Mark's wedding at the Audain Art Museum
Whistler — Nita Lake Lodge has several different indoor and outdoor options for hosting your wedding in Whistler, whether you're planning a large or small event. In addition to their exceptional and architecturally minded spaces, Nita Lake Lodge offers various services including catering, luxury accommodations, and a spa. Note: this Whistler based venue does require that you work with a professional wedding planner familiar with Nita Lake Lodge.
Check out: Cait & Naveed's wedding at Nita Lake Lodge
Pemberton — North Arm Farm is a family run 60-acres organic farm as well as a beautiful wedding venue perfect for those seeking a scenic outdoor setting. Mt Currie as a backdrop can't be beat. You can either opt for long table al fresco dining on the lawn (rentals not included) or use the large open barn and patio bistro for all-weather events. A definite favourite on this Best BC Wedding Venues list.
Check out: Aasttha & Prasann's wedding at North Arm Farm
Riverlands Equestrian Facility
Pemberton — Riverlands is a privately owned estate featuring an expansive 1,260 acres of diverse landscapes and uninterrupted mountain views. Perfect for couples hosting larger weddings with a vision to celebrate al fresco and under the stars in the summertime.
Check out: Nav & Andre's wedding at Riverlands Equestrian Facility
Squamish — Located in beautiful Squamish, the Sea to Sky Gondola is quintessential British Columbia: where the sea, mountains, and forests meet. The Sea to Sky Gondola is ideal for weddings happening all year round, whether you want the stunning vistas on a clear day in summer or the landscape blanketed in snow in winter or during the shoulder seasons. You've probably marvelled at images of the suspension bridge and viewing platforms that can be enjoyed here. A wedding in nature? This is one of the best BC wedding venues for exactly that.
Squamish Lil'wat Cultural Centre
Whistler — A unique and elegant venue located in Whistler perfect for elegant affairs. Venue options include the Istken Hall which features wrap-around windows and is often used for ceremonies and receptions. The Great Hall located on the main level has floor-to-ceiling windows that look north over Lost Lake and the Garibaldi Mountain Ranges. Note: to book this venue, you must have a professional wedding planner to assist with any details leading up to your wedding day.
Check out: Shea & Michael's wedding at Squamish Lil'wat Cultural Centre
Squamish — Located on the banks of the Cheakamus and Cheekye rivers, Sunwolf is a family-run resort with boutique on-site cabins, a cafe with a sundeck, fire pits, and activities such as whitewater rafting, fishing, and bald eagle-viewing float trips. It's the perfect location for a relaxed, outdoor wedding and is a blank slate kind of venue that you can decorate and furnish to your heart's desire.
Check out: Tara & Aaron's wedding at Sunwolf
Tofino and Ucluelet Wedding Venues



A stunning starting point for your adventure in the western reaches of Vancouver Island, Black Rock Resort is best suited for those wanting to get away from it all and have an intimate wedding amongst some of the most beautiful scenery in the world. Couples getting married here often choose Browns Beach as their stunning ceremony site and the Wine Cellar for their reception.
Check out: Talia & Christian's wedding at Black Rock Oceanfront Resort
If you're not sleeping to the sounds of ocean waves while visiting Tofino, I dare say you're doing it wrong. Get married on the sandy beach of Cox Bay (just steps away) and then return to the lodge for a relaxed and intimate dining experience of local cuisine. Friendly and attentive staff, cozy fireplaces, and views that can't be beat.
Middle Beach Lodge keeps it easy when you're looking to elope or have an intimate wedding in Tofino. Book your own private lodge and have your ceremony on one of Tofino's stunning beaches. All weddings at Middle Beach Lodge are coordinated by Sheila of Rare Earth Weddings, who I've had the pleasure of collaborating with on many occasions.
Perfect for intimate weddings, Pacific Sands provides something of an all-inclusive experience. By teaming up with Tofino wedding planner, Rare Earth Weddings, this venue provides tailor-made packages that can include anything from a 14-feet communal table and various catering options, to shuttle services and group activities such as surfing lessons.
Blending contemporary west coast style with lovely conveniences, the Shore Pier is perfect for couples wanting a simple wedding planning experience. Host your ceremony on the covered deck then head indoors for your dinner reception. This wedding venue is located in the town of Tofino and offers a Day-of-Coordinator service if you don't already have a wedding planner. Frankly, any location in Tofino needs to be on this Best BC Wedding Venues list.
Check out: Leah & Fred's wedding at the Shore Pier
Located on Chesterman Beach, Wickaninnish sets the stage for couples seeking natural surroundings for their wedding or elopement. Old growth rainforest and ocean views can be enjoyed everywhere you look. A stunning setting indeed to get married.
Check out: Eva & Ray's wedding at the Wickanninish Inn
Victoria Area Wedding Venues



Imagine spending your wedding day surrounded in lavender, heritage apple trees, and warm coastal wood. You can find all of this and more at the stunning Bilston Creek Farm, located a 25-mins drive from downtown Victoria. And why not make a weekend of it, by staying in the historic farmhouse or a luxury glamping tent tucked into the forest. Farm-to-table dining is provided by Bramble by Bilston and you're welcome to choose one of several spots on the property to host your ceremony and reception.
A newer wedding venue on Vancouver Island, The Fort Common is a "revitalized brick carriage courtyard in the heart of downtown Victoria" that is available for wedding bookings from June to mid September. I can't think of many venues in B.C. that feature such a stunning outdoor courtyard, so add this location to your list and expect to be blown away.
This Victoria based wedding venue is among the most sought after in BC, and for good reason. Where else can you enjoy a castle setting on beautifully landscaped estate? Hatley Castle offers a few different packages depending on what you're after: from hosting your wedding ceremony only to the full experience and exclusive use of the grounds.
If you'd like to book my photography services for your wedding, send me a note using the form below.

Cheers!
—
↑ Go to top





OTHER GUIDES YOU MIGHT FIND USEFUL
—



Top 30 Vancouver Wedding Venues